DVIM-F Series
Basic Pneumatic Vibration Isolator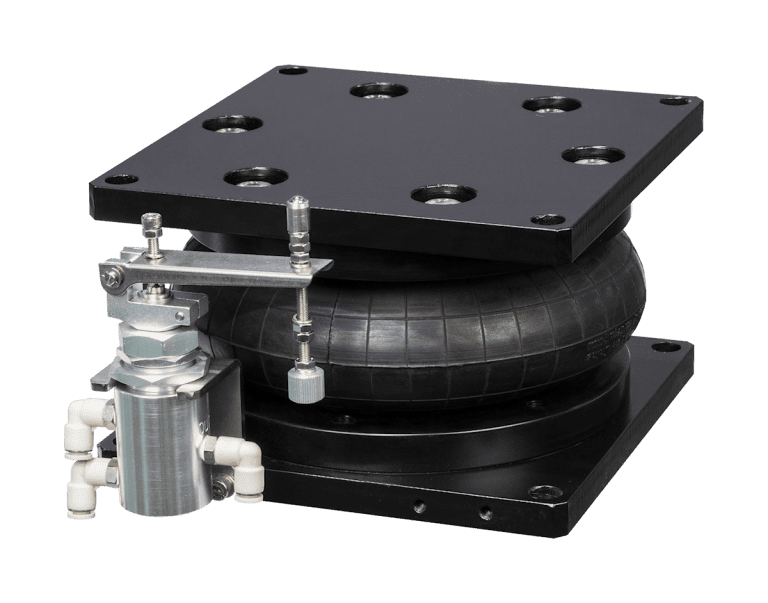 Overview

Features

Performance

Specifications

Options

Order

Resources
The DVIM-F series is a basic pneumatic vibration isolator and its structure consists of bellows air springs.
The DVIM-F isolators are suitable for metrology equipment requiring vibration isolation above 10 Hz.
Exceptional Durability
The DVIM-F pneumatic vibration isolators consist of the bellows air springs which are designed to perform
in the toughest conditions and in the long-term.
Pneumatic Vibration Isolation System
At Reasonable Price
The DVIM-F pneumatic vibration isolators are affordable and can be used in a wide range of applications.
High Performance Leveling Valve
The standard leveling vales with repeatability of ±0.1 mm and the precision leveling valves with repeatability of ±0.05 mm.
The precision leveling valves are recommended if both the releveling accuracy and the settling time are required.
Built-in Oil Damper to Support Metrology Equipment with Linear Stage
The built-in oil dampers are integrated in the DVIM-F series, dampening and minimizing disturbances caused by the linear
stage motions. Unfortuantely, there is a trade-off between the resonant frequency and damping efficiency. As damping is
increased, the fast settling time is acheived however, the resonant frequency of the DVIM-F isolators shift slightly higher
and the efficiencyof vibration isolation performance is decreased.
40 – 50% vibration isolation at 10 Hz
(Without Damper)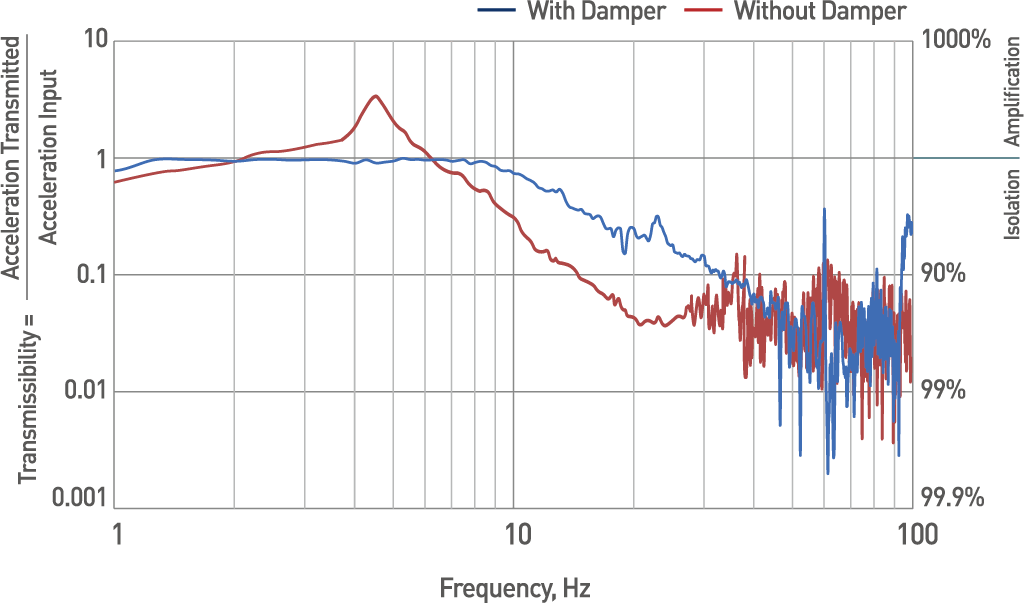 Vibration Isolation System

Pneumatic Isolation System

Load Capacity

100–60000 kg

Resonant Frequency

5.0–6.0 Hz

Vibration Isolation at 10 Hz

40-50% (Without Oil Damper)

Automatic Leveling

Yes

Accuracy of Leveling Repeatability

±1.0 mm for Standard Leveling Valve
±0.05 mm for Precision Leveling Valve

Built-In Oil Damper
Better Stability & Faster Settling Time
The built-in oil damper option is installed with stoppers to limit the linear stage from moving beyond certain stroke range
in the three horizontal directions. The built-in oil damper option provide high level of damping by an oil inside the dampers.
The higher the visocosity of the oil, the stiffer pneumatic vibration isolators which leads to shorten the settling time and
increases the stability of the systembut the transmissibility roll-off rate decreases.
Model

Dimensions (Floating)
L x W x H (mm)
Dimensions (Deflated)
L x W x H (mm)
Location of Bolt Hole
P x P (mm)
Weight Per Isolator
(kg)
Maximum Load Capacity
Per Isolator (kg)
Diameter of Bolt Hole
(⌀)

DVIM-F-500

220 x 220 x 152

180 x 180 x 142

160 x 160

11

500

10

DVIM-F-1000

240 x 240 x 152

200 x 200 x 142

180 x 180

16

1000

10

DVIM-F-1500

300 x 300 x 152

240 x 240 x 142

210 x 210

20

1500

10

DVIM-F-2000

320 x 320 x 152

270 x 270 x 142

240 x 240

35

2000

14

DVIM-F-2500

360 x 360 x 172

290 x 290 x 162

260 x 260

43

2500

14

DVIM-F-3000

380 x 380 x 172

320 x 320 x 162

290 x 290

50

3000

14
"D" indicates DVIM-F isolators with built-in oil dampers.

Model

Dimensions (Floating)
L x W x H (mm)
Dimensions (Deflated)
L x W x H (mm)
Location of Bolt Hole
P x P (mm)
Weight Per Isolator
(kg)
Maximum Load Capacity
Per Isolator (kg)
Diameter of Bolt Hole
(⌀)

DVIM-F-500D

220 x 220 x 152

180 x 180 x 142

160 x 160

11

500

10

DVIM-F-1000D

240 x 240 x 152

200 x 200 x 142

180 x 180

16

1000

10

DVIM-F-1500D

300 x 300 x 152

240 x 240 x 142

210 x 210

20

1500

10

DVIM-F-2000D

320 x 320 x 152

270 x 270 x 142

240 x 240

35

2000

14

DVIM-F-2500D

360 x 360 x 172

290 x 290 x 162

260 x 260

43

2500

14

DVIM-F-3000D

380 x 380 x 172

320 x 320 x 162

290 x 290

50

3000

14
2D CAD
Installation Reports