DVIM-G Series
Advanced Pneumatic Vibration Isolator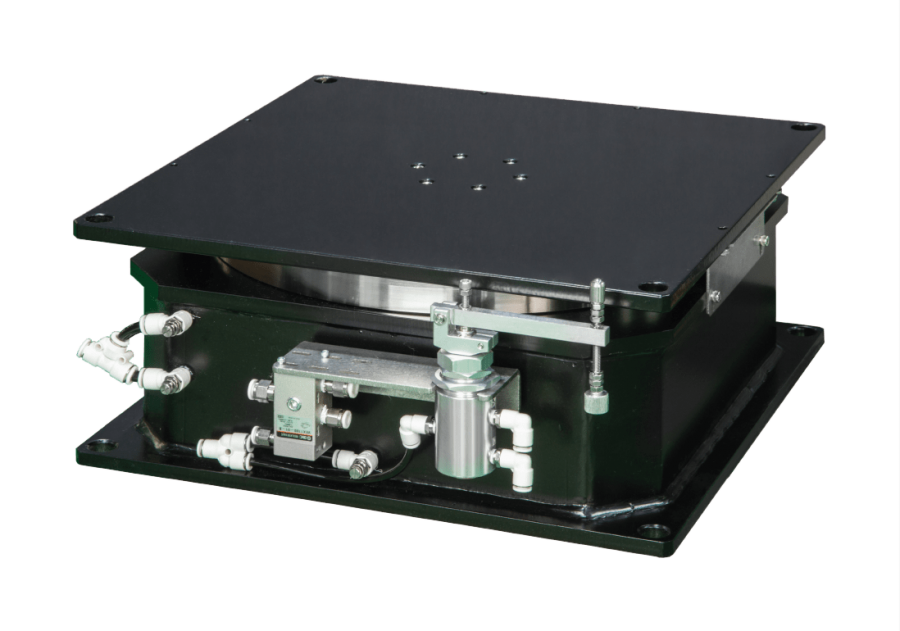 Overview

Features

Performance

Specifications

Options

Order

Resources
The DVIM-G series is an advanced pneumatic vibration isolator, designed to provide superior vibration isolation
performance, highest damping level and fastest payload settling time among other pneumatic vibration isolators.
Superior Vibration Isolation Performance
The DVIM-G series employs the special mechanical filter system and the unique isolator design to lower its resonant frequency as low as possbile to effectively reduce floor vibration, delivering 80 – 90% vibration isolation at 5 Hz.
Dual Chamber Isolation System
The dual chamber system of the DVIM-G series consists of an air chamber and a damping chamber connected
by two orificies : variable orifice and internal orifice. The variable orifice located outisde of the chambers and
the internal orifice located inside the chambers. Theese orificies control air flow between the chamberes to increase
damping efficiency and reduces its settling time. As the high forces of stage accelaration occur, the air chamber
makes a restoring force and air flows into the damping chamber through the orifices. These orifices dissipate energy
in the air, effectively damping the system.
High Performance Leveling Valve
The standard leveling vales with repeatability of ±0.1 mm and the precision leveling valves with repeatability of ±0.05 mm.
The precision leveling valves are recommended if both the releveling accuracy and the settling time are required.
Designed to Support
Metrology Equipment with Linear Stage
The DVIM-G series is equipped with external oil dampers, dampening and minimizing disturbances caused by the
linear stage motions. Unfortuantely, there is a trade-off between the resonant frequency and damping efficiency.
As damping is increased, the resonant frequency of the DVIM-G isolators shift slightly higher and the efficiency of vibration isolation performance is decreased.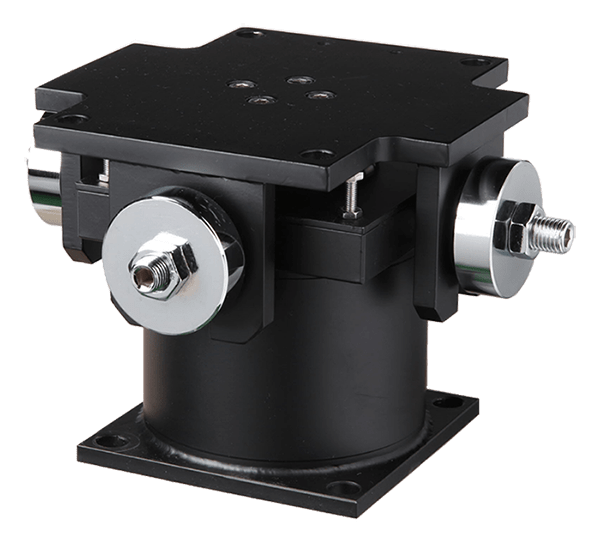 80 – 90% vibration isolation at 5 Hz
(Without Damper)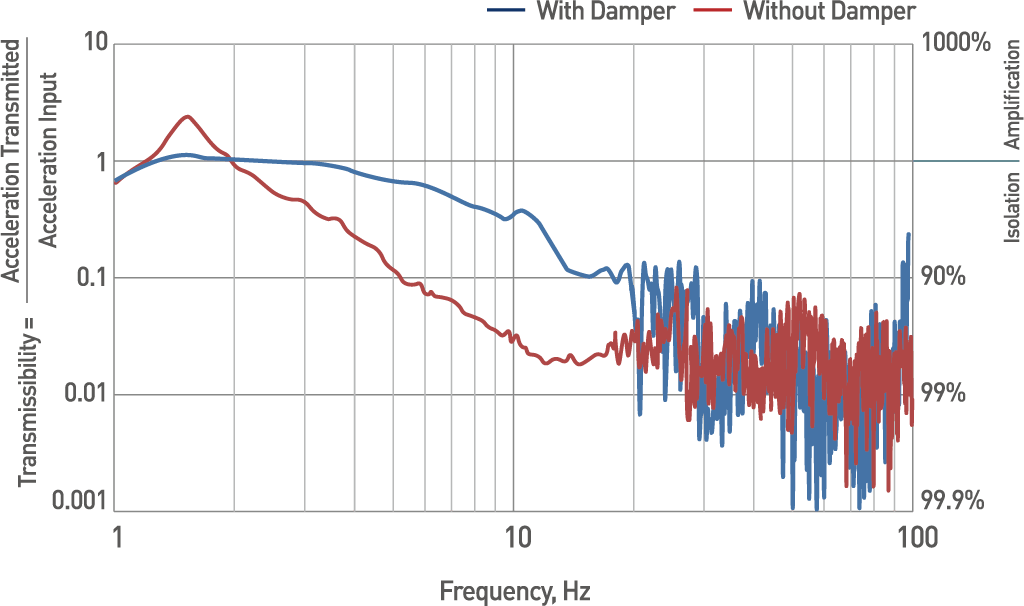 Vibration Isolation System

Pneumatic Isolation System

Load Capacity

500–60000 kg

Resonant Frequency

1.2–2.0 Hz

Vibration Isolation at 10 Hz

90–99% (Without Oil Damper)

Automatic Leveling

Yes

Accuracy of Leveling Repeatability

±1.0 mm for Standard Leveling Valve
±0.05 mm for Precision Leveling Valve

External Oil Damper
Better Stability & Faster Settling Time
The external oil dampers are installed with stoppers to limit the linear stage from moving beyond certain
stroke range in the three horizontal directions.The oil dampers provide high level of damping by
restriction force created by an oil inside the dampers. The higher the visocosity of the oil,
the stiffer pneumatic vibration isolators leading to reduce the settling time,
but the transmissibility roll-off rate decreases.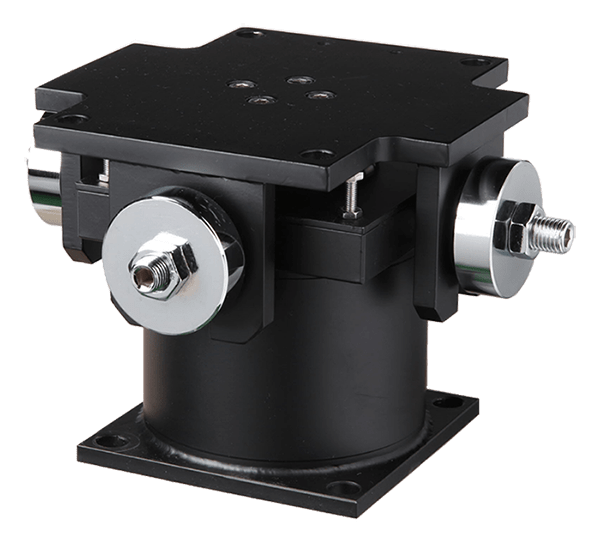 Air Operated Regulator Valve
Faster Settling TIme
An additional air operated regulator valve allows the DVIM-G isolators to increase speed of air flow and response,
delivering the faster settling time.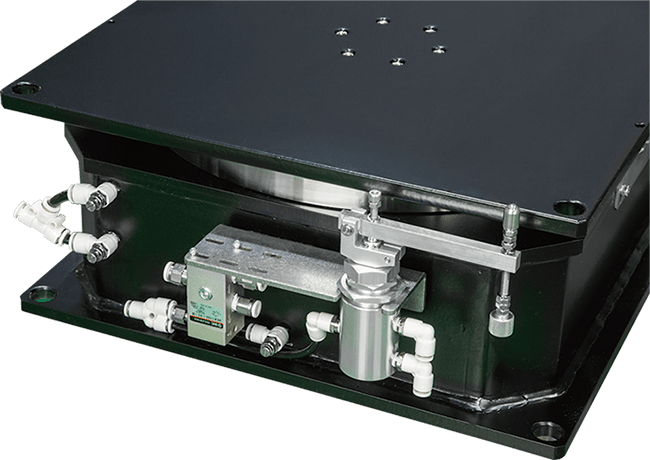 Model

Dimensions (Floating)
L x W x H (mm)
Dimensions (Deflated)
L x W x H (mm)
Location of Bolt Hole
P x P (mm)
Weight Per Isolator
(kg)
Maximum Load Capacity
Per Isolator (kg)
Diameter of Bolt Hole
(⌀)

DVIM-G-500

220 x 220 x 180

220 x 220 x 173.5

195 x 195

15

500

14

DVIM-G-1000

280 x 280 x 180

280 x 280 x 173.5

250 x 250

30

1000

14

DVIM-G-1500

320 x 320 x 180

320 x320 x 173.5

290 x 290

45

1500

18

DVIM-G-2000

350 x 350 x 180

350 x 350 x 173.5

320 x 320

55

2000

18

DVIM-G-3000

430 x 430 x 185

430 x 430 x 178.5

400 x 400

90

3000

18

DVIM-G-4500

488 x 488 x 185

488 x 488 x 178.5

458 x 458

135

4500

19

DVIM-G-6000

549 x 548 x 185

549 x 548 x 178.5

518 x 518

180

6000

19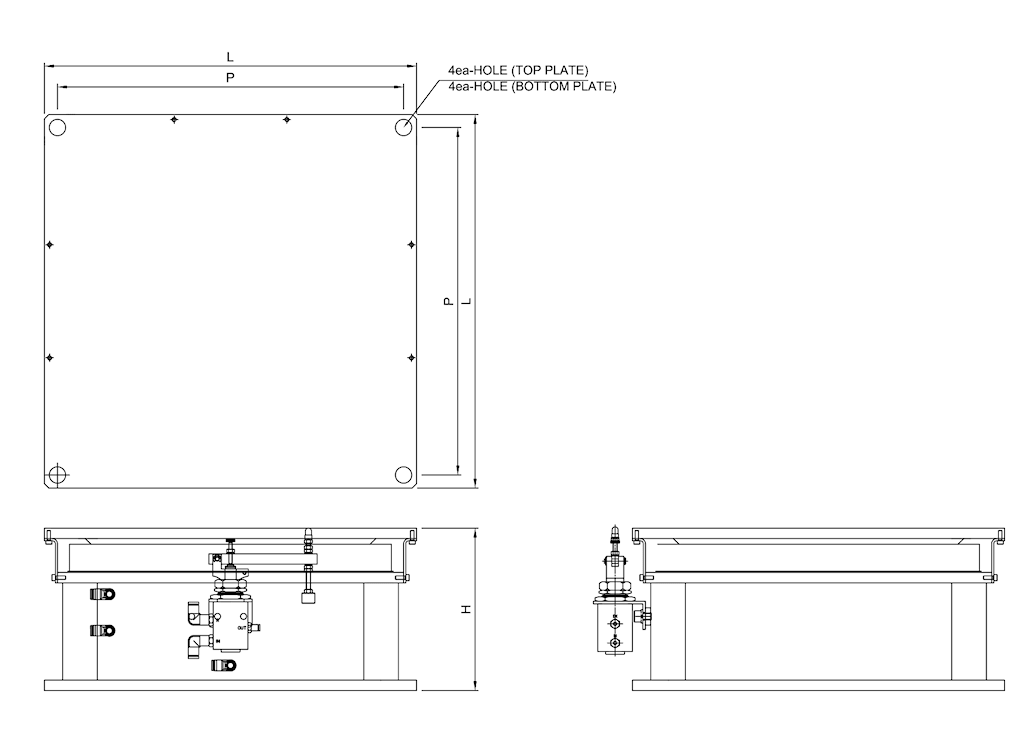 Model

Dimensions (Floating)
L x W x H (mm)
Dimensions (Deflated)
L x W x H (mm)
Bolt Hole for Top Plate
P x P (mm)
Bolt Hole for Bottom Plate
P x P (mm)
Diameter of Bolt Hole
(⌀)

G-OIL DAMPER

216 x 290 x 185 mm

216 x 290 x 180 mm

185 x 125

125 x 125

15