DSAP
Optical Aluminum Plate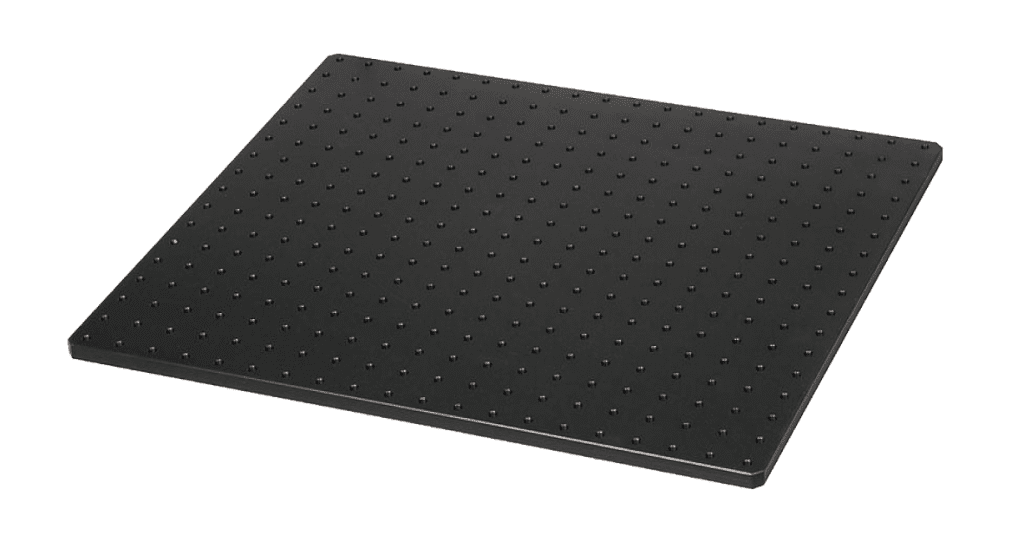 Overview

Specifications

Order
Our aluminum optical plates offer a solid and black anodizing surface with a grid of M6 (1/4-20)
mounting holes for end-users' components. The black anodizing surface reduces reflection of lights and
prevents the optical plates from turning rusty or corroded. 12 mm and 15 mm thick aluminium optical plates
is an optimal solution for mounting applications that does not require critical vibration damping.
| | |
| --- | --- |
| Material | 6061 Aluminum |
| Finish | 15 um Black Anodized |
| Thickness | 12 mm / 15 mm/ Custom |
| Mounting Hole | M6-1.0 |
| Mounting Hole Grid | 25 mm grid |
| Mounting Hole Borders | 12.5 mm |
Ordering Information

Ordering Chart
* Customization options are available. t*= Thickness of aluminium plates

Model No.

Dimensions
W x D x t(mm)
Dimensions
W x D x t(in.)
Weight (kg)
12t / 15t

DSAP-0302M/E-12t/15t

300 x 200 x 12/15

12 x 8 x 0.5/0.6

2/2

DSAP-0303M/E-12t/15t

300 x 300 x 12/15

12 x 12 x 0.5/0.6

3/4

DSAP-0304M/E-12t/15t

300 x 400 x 12/15

12 x 16 x 0.5/0.6

4/5

DSAP-0345M/E-12t/15t

300 x 450 x 12/15

12 x 18 x 0.5/0.6

4/6

DSAP-0305M/E-12t/15t

300 x 500 x 12/15

12 x 20 x 0.5/0.6

5/6

DSAP-0306M/E-12t/15t

300 x 600 x 12/15

12 x 24 x 0.5/0.6

6/7

DSAP-0307M/E-12t/15t

300 x 700 x 12/15

12 x 28 x 0.5/0.6

7/9

DSAP-0404M/E-12t/15t

400 x 400 x 12/15

16 x 16 x 0.5/0.6

5/7

DSAP-0405M/E-12t/15t

400 x 500 x 12/15

16 x 20 x 0.5/0.6

7/8

DSAP-4545M/E-12t/15t

450 x 450 x 12/15

18 x 18 x 0.5/0.6

7/8

DSAP-0406M/E-12t/15t

400 x 600 x 12/15

16 x 24 x 0.5/0.6

8/10

DSAP-0407M/E-12t/15t

400 x 700 x 12/15

16 x 28 x 0.5/0.6

9/11

DSAP-4575M/E-12t/15t

450 x 750 x 12/15

18 x 30 x 0.5/0.6

11/14

DSAP-0502M/E-12t/15t

500 x 200 x 12/15

20 x 8 x 0.5/0.6

3/4

DSAP-0505M/E-12t/15t

500 x 500 x 12/15

20 x 20 x 0.5/0.6

8/10

DSAP-0506M/E-12t/15t

500 x 600 x 12/15

20 x 24 x 0.5/0.6

10/12

DSAP-0507M/E-12t/15t

500 x 700 x 12/15

20 x 28 x 0.5/0.6

11/14

DSAP-0575M/E-12t/15t

500 x 750 x 12/15

20 x 30 x 0.5/0.6

12/15

DSAP-0508M/E-12t/15t

500 x 800 x 12/15

20 x 32 x 0.5/0.6

13/16

DSAP-0509M/E-12t/15t

500 x 900 x 12/15

20 x 36 x 0.5/0.6

15/18

DSAP-0606M/E-12t/15t

600 x 600 x 12/15

24 x 24 x 0.5/0.6

12/15

DSAP-0607M/E-12t/15t

600 x 700 x 12/15

24 x 28 x 0.5/0.6

14/17

DSAP-0609M/E-12t/15t

600 x 900 x 12/15

24 x 36 x 0.5/0.6

18/22

DSAP-0707M/E-12t/15t

700 x 700 x 12/15

28 x 28 x 0.5/0.6

16/20

DSAP-7575M/E-12t/15t

750 x 750 x 12/15

30 x 30 x 0.5/0.6

18/23

DSAP-0909M/E-12t/15t

900 x 900 x 12/15

36 x 36 x 0.5/0.6

26/33

DSAP-1003M/E-12t/15t

1000 x 300 x 12/15

40 x 12 x 0.5/0.6

10/12

DSAP-1004M/E-12t/15t

1000 x 400 x 12/15

40 x 16 x 0.5/0.6

13/16

DSAP-1005M/E-12t/15t

1000 x 500 x 12/15

40 x 20 x 0.5/0.6

16/20

DSAP-1006M/E-12t/15t

1000 x 600 x 12/15

40 x 24 x 0.5/0.6

19/24

DSAP-1007M/E-12t/15t

1000 x 700 x 12/15

40 x 28 x 0.5/0.6

23/28

DSAP-1008M/E-12t/15t

1000 x 800 x 12/15

40 x 32 x 0.5/0.6

26/32

DSAP-1009M/E-12t/15t

1000 x 900 x 12/15

40 x 36 x 0.5/0.6

29/37

DSAP-1010M/E-12t/15t

1000 x 1000 x 12/15

40 x 40 x 0.5/0.6

32/41

DSAP-1011M/E-12t/15t

1000 x 1100 x 12/15

40 x 44 x 0.5/0.6

36/45

DSAP-1012M/E-12t/15t

1000 x 1200 x 12/15

40 x 48 x 0.5/0.6

39/49

DSAP-1203M/E-12t/15t

1200 x 300 x 12/15

48 x 12 x 0.5/0.6

12/15

DSAP-1206M/E-12t/15t

1200 x 600 x 12/15

48 x 24 x 0.5/0.6

23/29

DSAP-1209M/E-12t/15t

1200 x 900 x 12/15

48 x 36 x 0.5/0.6

35/44

DSAP-1505M/E-12t/15t

1500 x 500 x 12/15

60 x 20 x 0.5/0.6

24/30

DSAP-1506M/E-12t/15t

1500 x 600 x 12/15

60 x 24 x 0.5/0.6

29/37

DSAP-1845M/E-12t/15t

1800 x 450 x 12/15

72 x 20 x 0.5/0.6

26/33