DSAP
Optical Aluminum Plate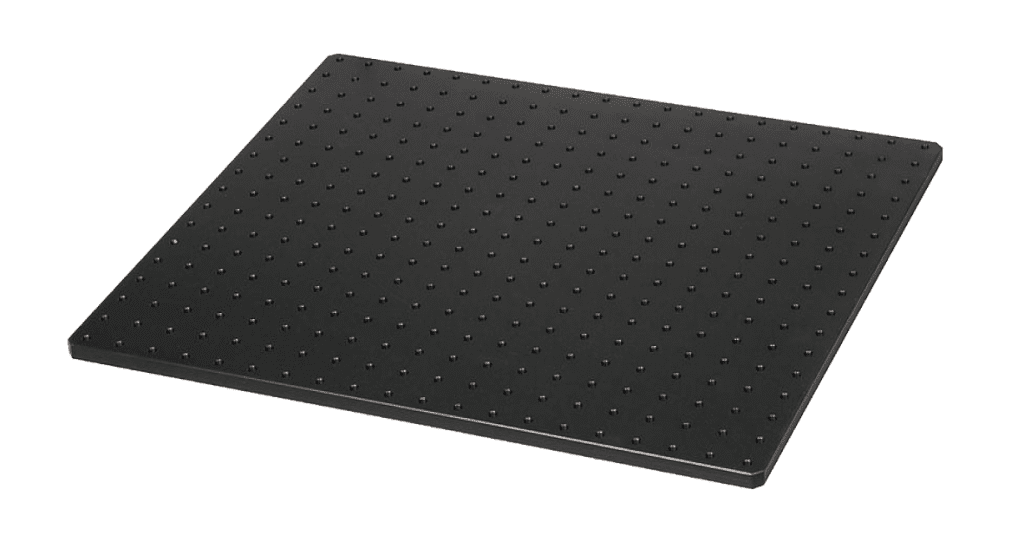 Overview

Specifications

Order
Our aluminum optical plates offer a solid and black anodizing surface with a grid of M6 (1/4-20)
mounting holes for end-users' components. The black anodizing surface reduces reflection of lights and
prevents the optical plates from turning rusty or corroded. 12 mm and 15 mm thick aluminium optical plates
is a optimal solution for mounting applicationsthat does not require critical vibration damping.
| | |
| --- | --- |
| Material | 6061 Aluminum |
| Finish | 15 um Black Anodized |
| Thickness | 12 mm / 15 mm/ Custom |
| Mounting Hole | M6-1.0 |
| Mounting Hole Grid | 25 mm grid |
| Mounting Hole Borders | 12.5 mm |
Ordering Information

Ordering Chart
* Customization options are available. t*= Thickness of aluminium plates

Model No.

Dimensions
W x D x t(mm)
Dimensions
W x D x t(in.)
Weight (kg)
12t / 15t

DSAP-0302M/E-12t/15t

300 x 200 x 12/15

12 x 8 x 0.5/0.6

2/2

DSAP-0303M/E-12t/15t

300 x 300 x 12/15

12 x 12 x 0.5/0.6

3/4

DSAP-0304M/E-12t/15t

300 x 400 x 12/15

12 x 16 x 0.5/0.6

4/5

DSAP-0345M/E-12t/15t

300 x 450 x 12/15

12 x 18 x 0.5/0.6

4/6

DSAP-0305M/E-12t/15t

300 x 500 x 12/15

12 x 20 x 0.5/0.6

5/6

DSAP-0306M/E-12t/15t

300 x 600 x 12/15

12 x 24 x 0.5/0.6

6/7

DSAP-0307M/E-12t/15t

300 x 700 x 12/15

12 x 28 x 0.5/0.6

7/9

DSAP-0404M/E-12t/15t

400 x 400 x 12/15

16 x 16 x 0.5/0.6

5/7

DSAP-0405M/E-12t/15t

400 x 500 x 12/15

16 x 20 x 0.5/0.6

7/8

DSAP-4545M/E-12t/15t

450 x 450 x 12/15

18 x 18 x 0.5/0.6

7/8

DSAP-0406M/E-12t/15t

400 x 600 x 12/15

16 x 24 x 0.5/0.6

8/10

DSAP-0407M/E-12t/15t

400 x 700 x 12/15

16 x 28 x 0.5/0.6

9/11

DSAP-4575M/E-12t/15t

450 x 750 x 12/15

18 x 30 x 0.5/0.6

11/14

DSAP-0502M/E-12t/15t

500 x 200 x 12/15

20 x 8 x 0.5/0.6

3/4

DSAP-0505M/E-12t/15t

500 x 500 x 12/15

20 x 20 x 0.5/0.6

8/10

DSAP-0506M/E-12t/15t

500 x 600 x 12/15

20 x 24 x 0.5/0.6

10/12

DSAP-0507M/E-12t/15t

500 x 700 x 12/15

20 x 28 x 0.5/0.6

11/14

DSAP-0575M/E-12t/15t

500 x 750 x 12/15

20 x 30 x 0.5/0.6

12/15

DSAP-0508M/E-12t/15t

500 x 800 x 12/15

20 x 32 x 0.5/0.6

13/16

DSAP-0509M/E-12t/15t

500 x 900 x 12/15

20 x 36 x 0.5/0.6

15/18

DSAP-0606M/E-12t/15t

600 x 600 x 12/15

24 x 24 x 0.5/0.6

12/15

DSAP-0607M/E-12t/15t

600 x 700 x 12/15

24 x 28 x 0.5/0.6

14/17

DSAP-0609M/E-12t/15t

600 x 900 x 12/15

24 x 36 x 0.5/0.6

18/22

DSAP-0707M/E-12t/15t

700 x 700 x 12/15

28 x 28 x 0.5/0.6

16/20

DSAP-7575M/E-12t/15t

750 x 750 x 12/15

30 x 30 x 0.5/0.6

18/23

DSAP-0909M/E-12t/15t

900 x 900 x 12/15

36 x 36 x 0.5/0.6

26/33

DSAP-1003M/E-12t/15t

1000 x 300 x 12/15

40 x 12 x 0.5/0.6

10/12

DSAP-1004M/E-12t/15t

1000 x 400 x 12/15

40 x 16 x 0.5/0.6

13/16

DSAP-1005M/E-12t/15t

1000 x 500 x 12/15

40 x 20 x 0.5/0.6

16/20

DSAP-1006M/E-12t/15t

1000 x 600 x 12/15

40 x 24 x 0.5/0.6

19/24

DSAP-1007M/E-12t/15t

1000 x 700 x 12/15

40 x 28 x 0.5/0.6

23/28

DSAP-1008M/E-12t/15t

1000 x 800 x 12/15

40 x 32 x 0.5/0.6

26/32

DSAP-1009M/E-12t/15t

1000 x 900 x 12/15

40 x 36 x 0.5/0.6

29/37

DSAP-1010M/E-12t/15t

1000 x 1000 x 12/15

40 x 40 x 0.5/0.6

32/41

DSAP-1011M/E-12t/15t

1000 x 1100 x 12/15

40 x 44 x 0.5/0.6

36/45

DSAP-1012M/E-12t/15t

1000 x 1200 x 12/15

40 x 48 x 0.5/0.6

39/49

DSAP-1203M/E-12t/15t

1200 x 300 x 12/15

48 x 12 x 0.5/0.6

12/15

DSAP-1206M/E-12t/15t

1200 x 600 x 12/15

48 x 24 x 0.5/0.6

23/29

DSAP-1209M/E-12t/15t

1200 x 900 x 12/15

48 x 36 x 0.5/0.6

35/44

DSAP-1505M/E-12t/15t

1500 x 500 x 12/15

60 x 20 x 0.5/0.6

24/30

DSAP-1506M/E-12t/15t

1500 x 600 x 12/15

60 x 24 x 0.5/0.6

29/37

DSAP-1845M/E-12t/15t

1800 x 450 x 12/15

72 x 20 x 0.5/0.6

26/33