Scientific Grade Optical Tabletop

Overview

Features

Performance

Specifications

Options & Accessories

Order

Resources
The scientific grade optical table top is based on the broadband standard damping which minimizes
relative displacement in a wide frequency, offering a promised performance and quality for
extensive applications. The scientific grade optical table provides the same features
as the research grade optical table top but with reduced the structural damping level.
Steel Honeycomb Core Structure
The corrugated honeycomb steel layers are vertically expoxy bonded with a stainless steel top skin, a carbon steel bottom skin
and sidewalls, increasing its core density and minimizing its cell size. The steel honeycomb core structure provides
the highest core density and the smallest honeycomb core cell size, offering the maximum static and dynamic rigidity.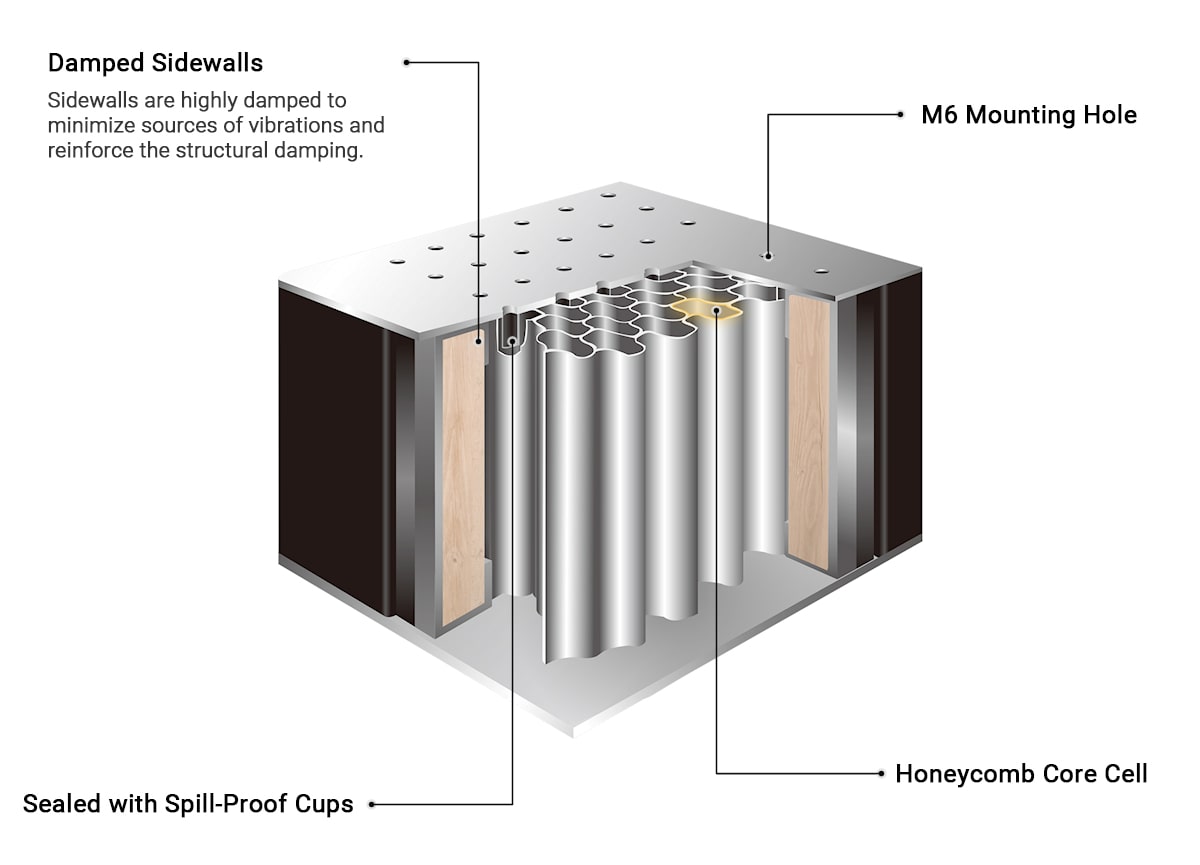 Smallest Honeycomb Core Cells
Our steel honeycomb core yields in the highest core density and the smallest honeycomb cell size 2.9㎠, offering the
superb rigid table top. As the smallest honeycomb cells contributing to increase the elastic selection modulus, the natural
frequency of the optical table tops increases, which the table top is less likely to respond to external forces and unfiltered
vibration. Moreover, the higher natural frequency minimizes vibration intensities and deflection under loads.
Our optical table top is all steel constructed, ensuring the long term thermal stability.
Individually Sealed Mounting Holes
Spill-proof and non-corrosive nylon cups are individually epoxy-bonded under each mounting hole to prevent spilling of liquids from contaminating the honeycomb core.
Tapped and Clean Surface
The table top surface is precision tapped and delicately sanded to provide a non-reflecting surface. Moreover, the surface is completely cleaned to remove residual metal particles and cutting fluids.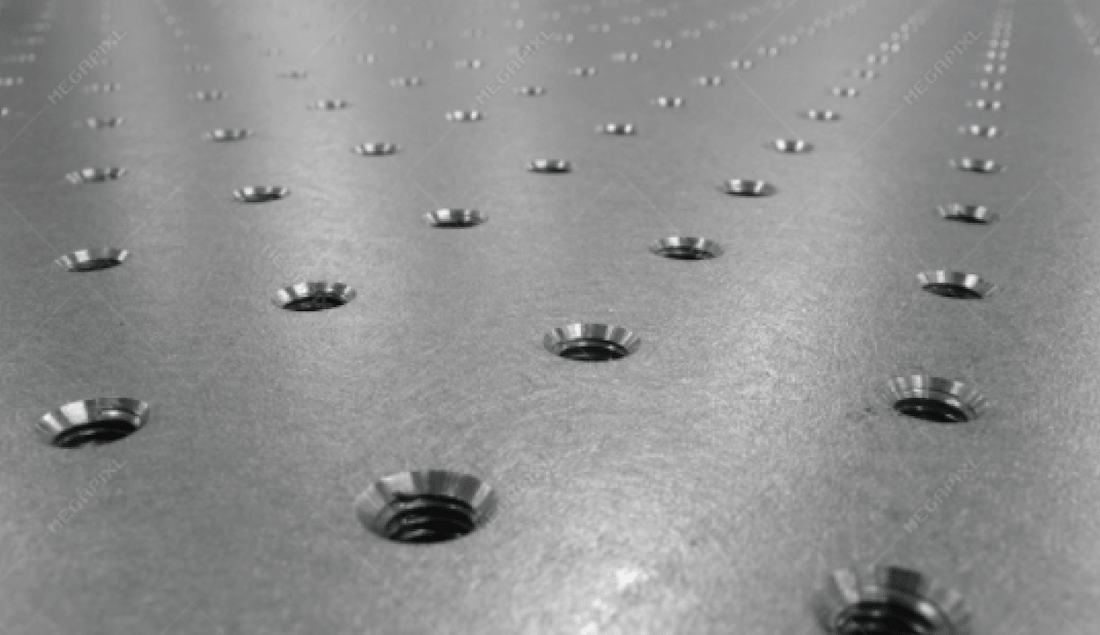 The corner compliance was measured on a 2000 x 1200 x 300 mm Scientific Grade optical table top.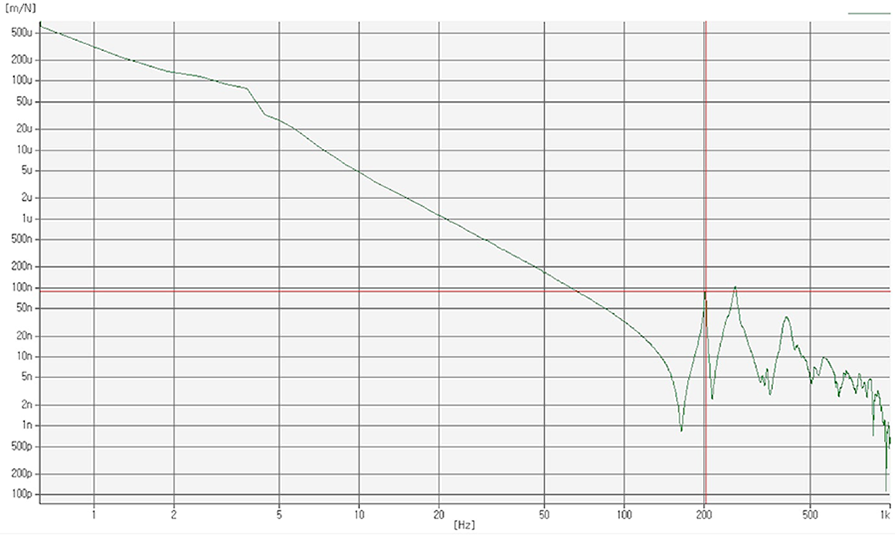 Construction

Core

steel honeycomb core structure, 0.25 mm thick foil

Core Cell Size

2.9 cm²

Core Shear Modulus

19339 kgf/cm² (275,000 psi)

Surface Flatness

±0.1 mm over 600 x 600 mm area

Top Skin

430 series ferromagnetic stainless steel, 4.0 mm thick

Bottom Skin

4.5 mm thick steel

Side Walls

2.0 mm thick steel plate with highly damped composite wood

Mounting Holes

M6-1.0

Mounting Hole Grid

25 mm grid

Mounting Hole Borders

37.5 mm

Mounting Holes Sealing

21 mm deep clean cylindrical cap

Damping:

broadband damping

Performance

 

Research Grade (2000 x 1200 x 300 mm)

Scientific Grade (2000 x 1200 x 300 mm)

Resonant Frequency

288 Hz

200 Hz

Compliance

25n m/N

85 n m/N
Options
Custom Optical Table Tops
We offer customization of optical table tops to meet a variety of customers' needs.
Joined Optical Tables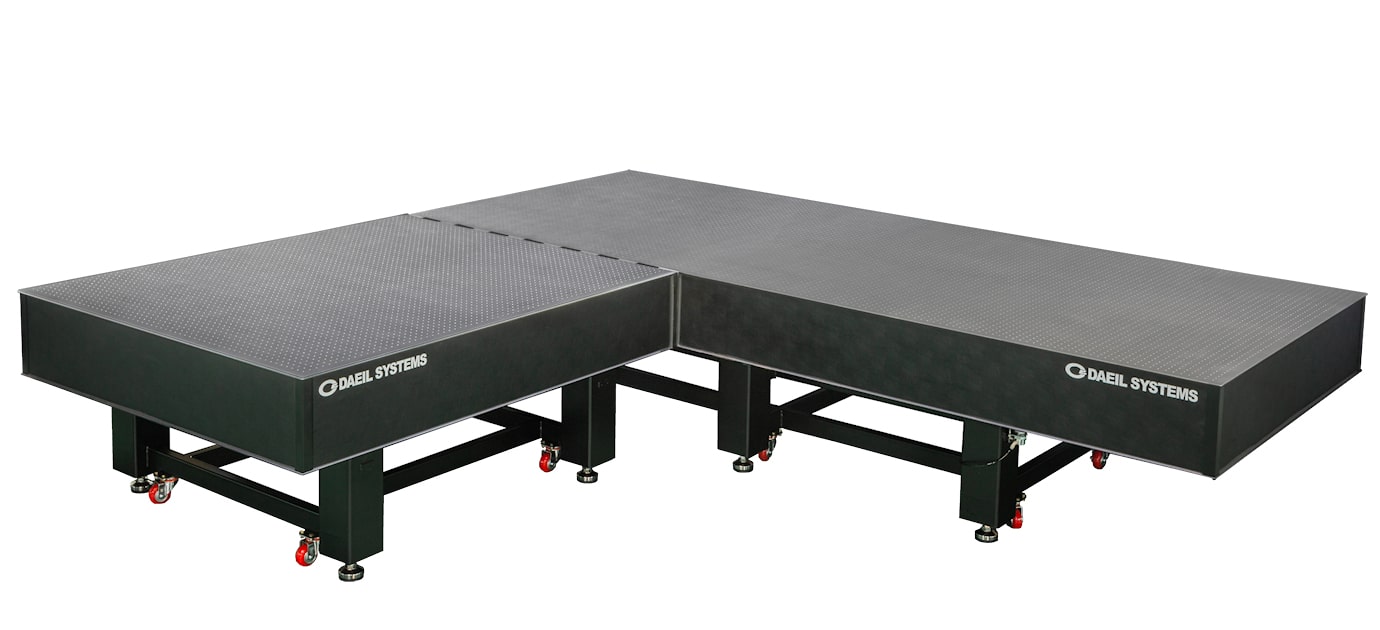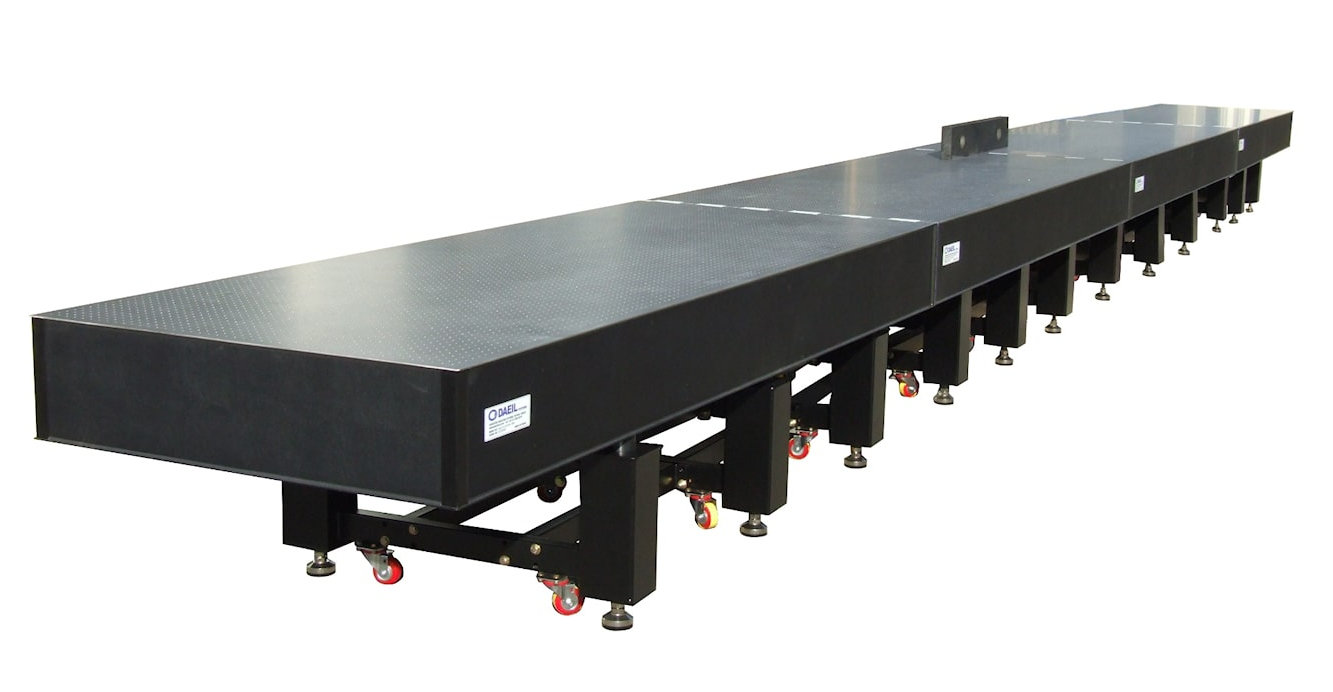 Accessories
Related Products
Ordering Information

Ordering Chart
Optical Table Top 200t
| Model No. | Dimensions W x D x t (mm) | Dimensions W x D x t (in.) | Weight (kg) |
| --- | --- | --- | --- |
| DVIO-B-1010M/E-200t-R.G/S.G | 1000 x 1000 x 200 | 40 x 40 x 8 | 139 |
| DVIO-B-1212M/E-200t-R.G/S.G | 1200 x 1200 x 200 | 48 x 48 x 8 | 201 |
| DVIO-B-1575M/E-200t-R.G/S.G | 1500 x 750 x 200 | 60 x 30 x 8 | 157 |
| DVIO-B-1509M/E-200t-R.G/S.G | 1500 x 900 x 200 | 60 x 36 x 8 | 188 |
| DVIO-B-1510M/E-200t-R.G/S.G | 1500 x 1000 x 200 | 60 x 40 x 8 | 209 |
| DVIO-B-1512M/E-200t-R.G/S.G | 1500 x 1200 x 200 | 60 x 48 x 8 | 251 |
| DVIO-B-1515M/E-200t-R.G/S.G | 1500 x 1500 x 200 | 60 x 60 x 8 | 313 |
| DVIO-B-1807M/E-200t-R.G/S.G | 1800 x 700 x 200 | 72 x 28 x 8 | 175 |
| DVIO-B-1875M/E-200t-R.G/S.G | 1800 x 750 x 200 | 72 x 30 x 8 | 188 |
| DVIO-B-1809M/E-200t-R.G/S.G | 1800 x 900 x 200 | 72 x 36 x 8 | 226 |
| DVIO-B-1810M/E-200t-R.G/S.G | 1800 x 1000 x 200 | 72 x 40 x 8 | 251 |
| DVIO-B-1812M/E-200t-R.G/S.G | 1800 x 1200 x 200 | 72 x 48 x 8 | 301 |
| DVIO-B-1815M/E-200t-R.G/S.G | 1800 x 1500 x 200 | 72 x 60 x 8 | 376 |
| DVIO-B-2009M/E-200t-R.G/S.G | 2000 x 900 x 200 | 80 x 36 x 8 | 251 |
| DVIO-B-2010M/E-200t-R.G/S.G | 2000 x 1000 x 200 | 80 x 40 x 8 | 278 |
| DVIO-B-2012M/E-200t-R.G/S.G | 2000 x 1200 x 200 | 80 x 48 x 8 | 334 |
| DVIO-B-2015M/E-200t-R.G/S.G | 2000 x 1500 x 200 | 80 x 60 x 8 | 417 |
| DVIO-B-2409M/E-200t-R.G/S.G | 2400 x 900 x 200 | 96 x 36 x 8 | 301 |
| DVIO-B-2410M/E-200t-R.G/S.G | 2400 x 1000 x 200 | 96 x 40 x 8 | 334 |
| DVIO-B-2412M/E-200t-R.G/S.G | 2400 x 1200 x 200 | 96 x 48 x 8 | 401 |
| DVIO-B-2415M/E-200t-R.G/S.G | 2400 x 1500 x 200 | 96 x 60 x 8 | 501 |
| DVIO-B-2508M/E-200t-R.G/S.G | 2500 x 800 x 200 | 100 x 32 x 8 | 278 |
| DVIO-B-3009M/E-200t-R.G/S.G | 3000 x 900 x 200 | 120 x 36 x 8 | 376 |
| DVIO-B-3010M/E-200t-R.G/S.G | 3000 x 1000 x 200 | 120 x 40 x 8 | 417 |
| DVIO-B-3012M/E-200t-R.G/S.G | 3000 x 1200 x 200 | 120 x 48 x 8 | 501 |
| DVIO-B-3015M/E-200t-R.G/S.G | 3000 x 1500 x 200 | 120 x 60 x 8 | 626 |
| DVIO-B-3612M/E-200t-R.G/S.G | 3600 x 1200 x 200 | 144 x 48 x 8 | 601 |
| DVIO-B-3615M/E-200t-R.G/S.G | 3600 x 1500 x 200 | 144 x 60 x 8 | 751 |
Optical Table Top 300t
| Model No. | Dimensions W x D x t (mm) | Dimensions W x D x t (in.) | Weight (kg) |
| --- | --- | --- | --- |
| DVIO-B-1010M/E-300t-R.G/S.G | 1000 x 1000 x 300 | 40 x 40 x 12 | 165 |
| DVIO-B-1212M/E-300t-R.G/S.G | 1200 x 1200 x 300 | 48 x 48 x 12 | 238 |
| DVIO-B-1575M/E-300t-R.G/S.G | 1500 x 750 x 300 | 60 x 30 x 12 | 186 |
| DVIO-B-1509M/E-300t-R.G/S.G | 1500 x 900 x 300 | 60 x 36 x 12 | 223 |
| DVIO-B-1510M/E-300t-R.G/S.G | 1500 x 1000 x 300 | 60 x 40 x 12 | 248 |
| DVIO-B-1512M/E-300t-R.G/S.G | 1500 x 1200 x 300 | 60 x 48 x 12 | 297 |
| DVIO-B-1515M/E-300t-R.G/S.G | 1500 x 1500 x 300 | 60 x 60 x 12 | 372 |
| DVIO-B-1875M/E-300t-R.G/S.G | 1800 x 750 x 300 | 72 x 30 x 12 | 223 |
| DVIO-B-1809M/E-300t-R.G/S.G | 1800 x 900 x 300 | 72 x 36 x 12 | 268 |
| DVIO-B-1810M/E-300t-R.G/S.G | 1800 x 1000 x 300 | 72 x 40 x 12 | 297 |
| DVIO-B-1812M/E-300t-R.G/S.G | 1800 x 1200 x 300 | 72 x 48 x 12 | 357 |
| DVIO-B-1815M/E-300t-R.G/S.G | 1800 x 1500 x 300 | 72 x 60 x 12 | 446 |
| DVIO-B-2009M/E-300t-R.G/S.G | 2000 x 900 x 300 | 80 x 36 x 12 | 297 |
| DVIO-B-2010M/E-300t-R.G/S.G | 2000 x 1000 x 300 | 80 x 40 x 12 | 330 |
| DVIO-B-2012M/E-300t-R.G/S.G | 2000 x 1200 x 300 | 80 x 48 x 12 | 396 |
| DVIO-B-2015M/E-300t-R.G/S.G | 2000 x 1500 x 300 | 80 x 60 x 12 | 495 |
| DVIO-B-2409M/E-300t-R.G/S.G | 2400 x 900 x 300 | 96 x 36 x 12 | 357 |
| DVIO-B-2410M/E-300t-R.G/S.G | 2400 x 1000 x 300 | 96 x 40 x 12 | 396 |
| DVIO-B-2412M/E-300t-R.G/S.G | 2400 x 1200 x 300 | 96 x 48 x 12 | 476 |
| DVIO-B-2415M/E-300t-R.G/S.G | 2400 x 1500 x 300 | 96 x 60 x 12 | 594 |
| DVIO-B-2515M/E-300t-R.G/S.G | 2500 x 1500 x 300 | 100 x 60 x 12 | 620 |
| DVIO-B-3009M/E-300t-R.G/S.G | 3000 x 900 x 300 | 120 x 36 x 12 | 446 |
| DVIO-B-3010M/E-300t-R.G/S.G | 3000 x 1000 x 300 | 120 x 40 x 12 | 495 |
| DVIO-B-3012M/E-300t-R.G/S.G | 3000 x 1200 x 300 | 120 x 48 x 12 | 594 |
| DVIO-B-3015M/E-300t-R.G/S.G | 3000 x 1500 x 300 | 120 x 60 x 12 | 743 |
| DVIO-B-3612M/E-300t-R.G/S.G | 3600 x 1200 x 300 | 144 x 48 x 12 | 713 |
| DVIO-B-3615M/E-300t-R.G/S.G | 3600 x 1500 x 300 | 144 x 60 x 12 | 891 |
Optical Table Top 400t
| Model No. | Dimensions W x D x t (mm) | Dimensions W x D x t (in.) | Weight (kg) |
| --- | --- | --- | --- |
| DVIO-B-1812M/E-400t-R.G/S.G | 1800 x 1200 x 400 | 72 x 48 x 16 | 471 |
| DVIO-B-1815M/E-400t-R.G/S.G | 1800 x 1500 x 400 | 72 x 60 x 16 | 589 |
| DVIO-B-2010M/E-400t-R.G/S.G | 2000 x 1000 x 400 | 80 x 40 x 16 | 436 |
| DVIO-B-2012M/E-400t-R.G/S.G | 2000 x 1200 x 400 | 80 x 48 x 16 | 524 |
| DVIO-B-2015M/E-400t-R.G/S.G | 2000 x 1500 x 400 | 80 x 60 x 16 | 654 |
| DVIO-B-2409M/E-400t-R.G/S.G | 2400 x 900 x 400 | 96 x 36 x 16 | 471 |
| DVIO-B-2410M/E-400t-R.G/S.G | 2400 x 1000 x 400 | 96 x 40 x 16 | 524 |
| DVIO-B-2412M/E-400t-R.G/S.G | 2400 x 1200 x 400 | 96 x 48 x 16 | 628 |
| DVIO-B-2415M/E-400t-R.G/S.G | 2400 x 1500 x 400 | 96 x 60 x 16 | 785 |
| DVIO-B-3009M/E-400t-R.G/S.G | 3000 x 900 x 400 | 120 x 36 x 16 | 589 |
| DVIO-B-3010M/E-400t-R.G/S.G | 3000 x 1000 x 400 | 120 x 40 x 16 | 654 |
| DVIO-B-3012M/E-400t-R.G/S.G | 3000 x 1200 x 400 | 120 x 48 x 16 | 785 |
| DVIO-B-3015M/E-400t-R.G/S.G | 3000 x 1500 x 400 | 120 x 60 x 16 | 981 |
| DVIO-B-3612M/E-400t-R.G/S.G | 3600 x 1200 x 400 | 144 x 48 x 16 | 942 |
| DVIO-B-3615M/E-400t-R.G/S.G | 3600 x 1500 x 400 | 144 x 60 x 16 | 1178 |